Is a free plan right for your shopify app?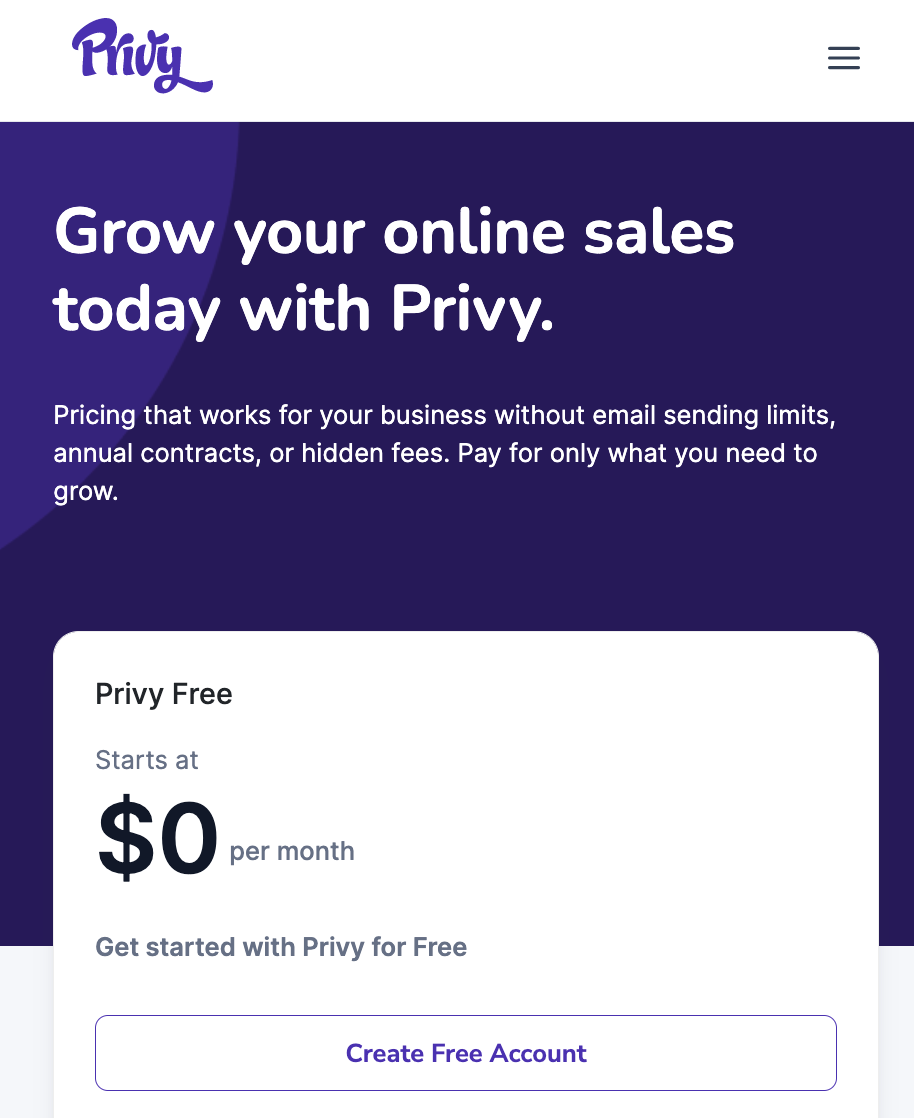 The decision to add a free tier is a big one. I want to run through some pros and cons and strategy behind why we ended up launching one for Privy, and what it did for us.
First - some history.
Privy started as a direct sales model with no free plan. I was trying to close deals with multi-store retailers. I was cold calling. Cold emailing. Then trying to demo value by phone, and close deals via contract after a brief trial.
It was brutal. I heard "no" 100 times a day.
It wore on me. We closed a few good deals, and got to maybe $100K ARR, remained there for 2 years or so. But it wasn't growing.
Maybe I sucked at sales. But from day one it set the wrong tone with my target customer.
I wanted to help them. They wanted to avoid my calls.
There was friction everywhere. And they didn't trust I could help them, because they knew I wanted to "close them".
Thankfully we were forced to pivot. Hard.
And in the second iteration of Privy, (we called it Phoenix - like rising from the ashes lol), I just wanted to convince myself of two things:
We could actually add value to merchants with our software
That we could remove all friction in the sales process
That's when we rebuilt the product and leaned into free. We asked those $100K ARR customers we had to pay up front for a discount. They did. So we had like $80K in the bank to fund the pivot. Team was me and 2 devs at the time.
Privy 2.0 started ONLY with a free plan. No paid tiers for the first 6 months. The mission was truly "can we get users, can we get them to value quickly".
If we could achieve both, we believed wecould monetize quickly through premium plans.
And that's exactly what we did.
I would monitor forums on facebook for ecommerce merchants. Any time someone was talking about email popups, I'd chime in, help them with some tips, and then say "hey btw we have a free version - would love your feedback if you try it out".
No BS this is how we got Privy to $30K MRR. Free plan. Lead with help. And every week I carved time to look at shopify forums, squarespace forums, quora, reddit etc and add value, then point them to free.
First month we added 100 users. Next month 200. 400, 800 etc. Before we had any paid plans we kept doubling new installs to the free plan.
And for the first time in the history of the business, I had my target customer coming in droves, to us, using the product, seeing value.
This is the moment we all knew we were onto something special.
And users trusted us. They gave us incredible product feedback and ideas.
Once we started to see similar requests coming in, I'd go to each of those users and say "hey if we built that would you move to a paid plan for it". 9 times out of ten the answer was "yes". So we'd build it and put it on a paid plan to guarantee our ROI quickly.
It worked, and this helped us get to breakeven at $30K MRR before the pre-paid revenue that funded Privy 2.0 ran out.
This is the hidden power of a free tier that most founders don't understand.
The last cold call I made was in 2016. And I will never go back.
For us, we strategically knew that we wanted every single shopify store using Privy. Of course, that only makes sense if your product s relevant to 100% of stores. Forms, and email absolutely are.
The strategy was to get every store set up on privy free. Show them value quickly through a self serve product, and amazing customer support experience. And if there business grew, they should trip the free tier and need to move to premium. But only after they trusted us and saw value.
It worked.
So for us, here are the pros we saw from introducing a free plan:
Removed all friction in customer development.
Drove insane top of funnel via free plan and all the integrations we had
Became a feeding ground for "softball" upgrade conversations, that all began in a live-chat support experience. This became the foundation for the PRivy inside sales model. To this day we have never once needed to make an outbound call. Only calling into existing users on the free tier.
It reduces the "perceived risk" of a merchant trying your product.
Some of the cons:
It's not easy to support free users. And you do need to decipher between users that are really helping, and those that are sucking time.
Depending on the nature of your product, free users could drive significant costs, so it may not be right for every business (think SMS costs).
But for me, if you believe every single Shopify store is your ideal customer, you need a strong free plan. Especially if app store and marketing is your GTM.
And remember, you can always change packaging down the road if over time you realize you don't need it.