On being acquired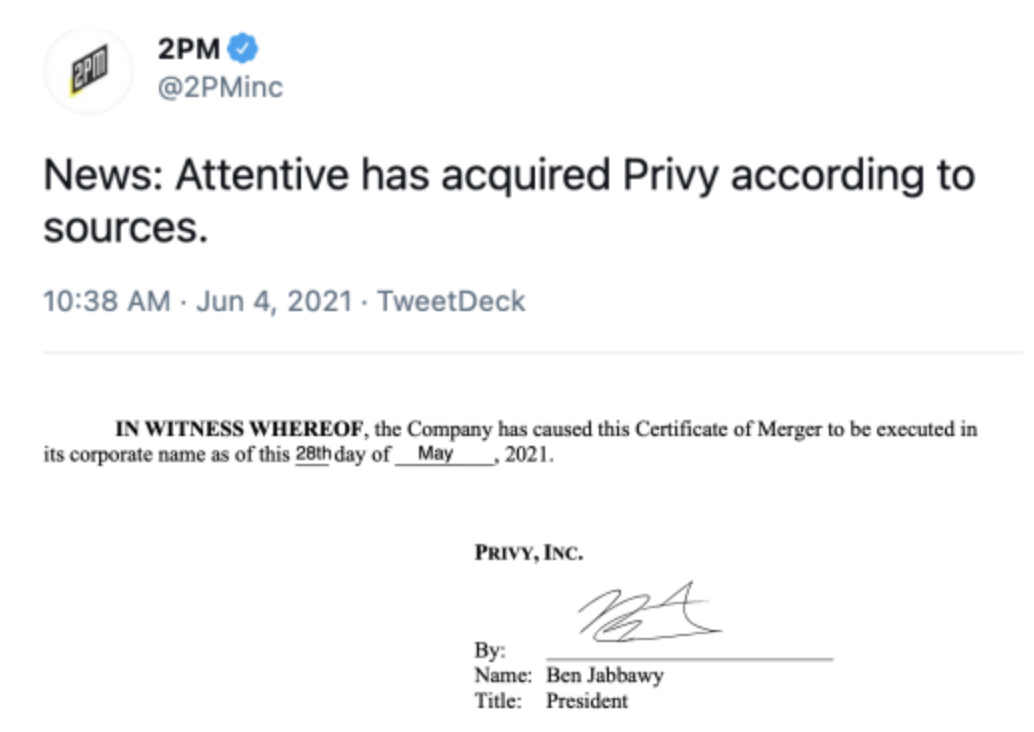 On June 9th, Privy was acquired by Attentive.
6 months later, it's still hard to believe really. A dream come true. The kind of deal you always think about in the early days.
"If we can just do ABC…then things will be cranking."

10 years of saying that and executing later, the moment came and boy was it sweet.
Likely launching a podcast on this all a few years down the line, but for now, just wanted to document a few funny things about the deal itself, so I don't forget it all.
There was a code name for Privy on the buyer side: " Project Pheasant". No clue where it came from. But it was hilarious and even made its way into the fully negotiated contract documents.
Oh then there was the waterfall. Holy shit. Imagine trying to get the flow of acquisition money 100% accurate down to the penny in a part cash part stock deal. Paying off debts and expenses first, then 70 employees, then 50+ shareholders.

I think the word waterfall must have been thrown around 100 times a day over that 90 day period. And wow is it wild combing through each row of that thing, understanding exactly how much $ every single person is getting. High stakes excel work right there. Of course, quadruple checked by 2 huge law firms, multiple VC firms. Possibly the most expensive spreadsheet I'll ever engage with.
Signing day. I woke up. I thought I'd be jumping for joy. I always imagined being surrounded by a team of lawyers in a sweet conference room. Instead I threw on shorts and a tee and flip flops.
Thanks to Covid, none of that. Woke up and all I could do was cry - happy cry of course. "we did it". That's all I could get myself to say to my wife, my brother. An unbelievable feeling of triumph. Like winning the superbowl.
And then we had a payment agent distribute funds. Holly hell was that cool but also a nightmare. I had shareholders pushing lates 70s, one in their 80s, that had never used docusign before, let alone a secure, 2-factor protected shareholder portal to both sign and receive funds. I remember being on a time crunch - "you need 90% of signatures" to close. And I kept building lists of who was left to sign from employees, shareholders. Sending texts. Making calls. In some cases actually face timing the elderly shareholders, asking them to point the phone at the screen so I could help them with two factor and properly executing their docs.
What a whirlwind. Once in a lifetime sequence of events.
And I think the funniest thing, for me, since it was so unexpected. Was that I executed this deal end to end from the comfort of my own home, in shorts, a tshirt and flip flops.
Post acquisition life has been amazing. Working harder, feeling refreshed and plenty challenged, as we work now in support of Attentive. Learning from the best of the best and having fun.
Although it is a bit odd that you just kinda roll right into the next chapter. Anyways, excited to see where the next chapter goes as part of Attentive.