Investment memo: Junip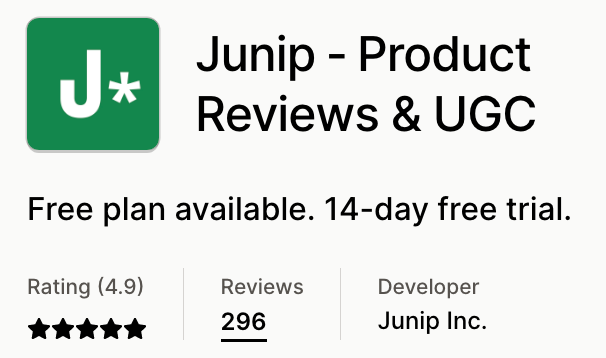 Company: Junip
CEO: Stuart Arsenault
Thesis

With the majority of retail sales now happening online, product reviews have become critical in the conversion funnel.
We see this in our own browsing behavior on Amazon.
DTC brands have been able to collect and display their own reviews on their sites through incumbent platforms like Yotpo. However, the process for collecting those reviews in a mobile first world, embedding them on your dot com, then syndicating them to search engines like google, or other marketplace listings, is incredibly cumbersome.
This is junip's wedge, a mobile first platform for collecting product review content, along with key syndication integrations into google search and other retail marketplaces.
I really like Stuart as a founder and his technical cofounder Robin. They worked together at smile.io prior, which got to $10M+ in ARR. They have what it takes, and are operating a very cash efficient growth engine right now.
With review incumbents north of $100M ARR, it's easy to see how this scales to something meaningful, given how early we are investing.
I'm a big believer, that every 5 years there's an opportunity to build a new entrant into an existing space with big incumbents. In this case, Junip is winning against Yotpo (Over $100M ARR). Having been building Privy for ten years, I know how much tech debt we have, how quickly commerce changes, and how fast Shopify roles out new APIs that empower agile developers. As the incumbent, it's fucking hard to keep up with that. Which creates new space for entrants to find a wedge, and build something innovative. I was the first investor in Junip in 2019, because I had known Stuart from his previous gig at smile.io. He always impressed me and understood commerce better than most. When he told me he was leaving to build something new, I blindly bet on him as a founder. Since then, I've watched him build an industry leading reviews product, and scale a super impressive cash efficient business. Junip has barely raised, yet they're growing faster than most at seed, because their product is damn good.
I also like Stuart's grander vision of UGC syndication through retailers and marketplaces. The current state of Junip is a wedge into something much bigger, but even the current iteration is making waves and becoming an important asset in the Shopify ecosystem.