The full evolution of how we supported customers at Privy i.e our coaching model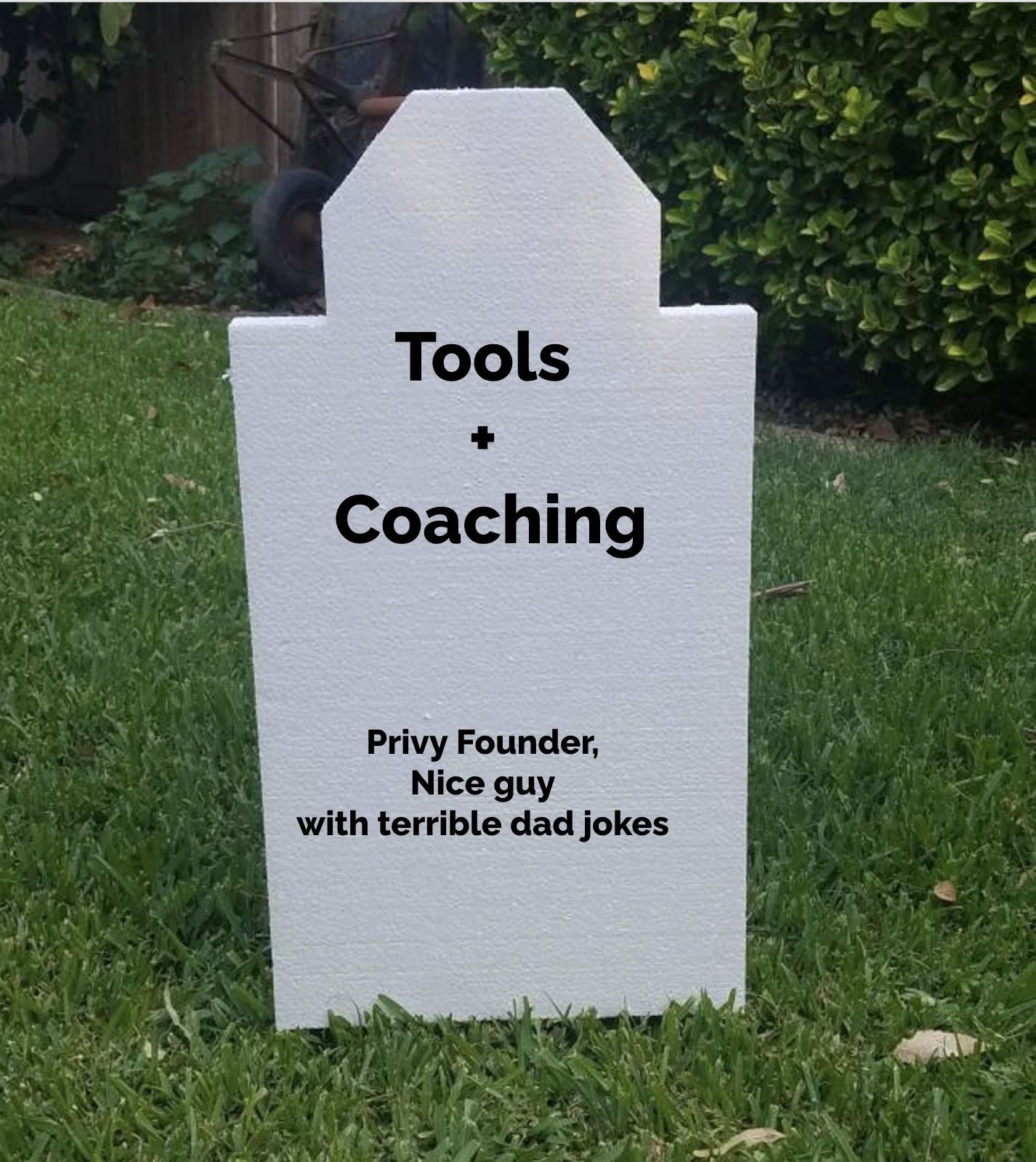 In 2015 we were rebuilding Privy from the ashes, quite literally. We had an acquhire fall apart on the one yard line, and I let everyone go aside from 2 devs.
It was a horrible moment, telling everyone "the jobs we thought we had at hubspot", actually weren't coming to fruition.
That was definitely a bottom for me.
But very quickly after that, I felt free, for the first time as the founder of the business.
A very small team. No investors asking questions, no team nagging me for what to do.
We were free to try new stuff and figure something out.
Since the failed V1 was all about cold calls and outbound sales, I genuinely wanted to switch up the model entirely.
We wanted to prove to ourselves that there was something here, and that users, even free, would value the product we were building.
Turns out we found distribution through integrations, and we were on our way.
In this new incarnation of Privy, we quite literally called it Privy Phoenix (rising from the ashes), I wanted to talk to as many users and customers as I possibly could.
And that was the genesis of what became the Privy coaching model.
At the time it was myself and 2 devs.
All I did was engage in forums to help spread word, and manage live chat customer support inside the Product. (At the time we used intercom for this - I spent 99% of my day inside intercom, and loved every second of it).
After a failed phase of the business where no users would talk to me, I was loving that just by offering live chat inside the dashboard, for free users, I was able to have conversations with my users all day long.
It was incredible.
Since we were in bootstrap mode, we had to be damn sure we were using our devs to build the right stuff that would drive good ROI (Also ties into packaging and pricing).
Live chat support.
What better way to really understand the needs of your users than to let them tell you where they're getting blocked, and what features they wanted you to build, by letting them instant message with you while using the product.
As the user base started to grow and the number of live chats scaled, I realized a few things:
I needed to start writing self help guides (help docs).
I also needed to write and save some templates inside intercom that I could fire off, that linked to those help docs.
It's not that I was trying to turn myself into a chatbot, it was that I was trying to enable the live chat model to scale. In order to do that, you need to turn any common live chat discussion into a guide and template in your ticketing system.
It's the only way to scale.
I was the only live chat person until late 2016 and about $1M ARR, at which point we started bringing in incredible talent from Constant Contact that has scaled our support team in a big way.
Even after bringing in full time support folks, I would still moonlight nights and weekends handling chats, because of how close it kept me to my customers. That was critical for me.
This playbook of having "product experts" available on live chat and email laid the foundation for the Privy support team.
These were product experts who were great at customer communications. They weren't marketing experts or customer success, that would come later.
Pairing great people, with great docs, with embedded video walkthroughs, and a growing template base for faster responses to common issues, really helped us scale.
5 years later this team of support heroes comfortably handles 5K tickets per month.
Live chat paved the way for inside sales and customer success management.
When I was doing chat, and even after we added our first few support reps, we realized that a good portion of the chats weren't support related. They were actually sales chats.
Instead of "I'm having a hard time setting up this feature", more and more conversations looked like "hey - I see on the paid plan you offer this, how does that work?"
Rather than limit things to chat, I'd invite those users to hop on the phone real quick. We'd hop on zoom, I'd walk them through the premium feature, how it actually worked and the type of value it could drive.
Quick, 20-30 minute call, that was "support led", was driving a high volume of upgrades.
This gave us the confidence to bring in our first sales rep.
And as we started closing deals at higher price points, we realized that if someone was paying over $200 a month, we should probably have a dedicated customer success manager for that account.
Unlike support, customer success was mostly executed through zoom calls. The customer success manager (CSM), would be assigned 100 accounts or so, but only accounts where MRR was $200 or higher.
CSMs also needed to be product experts, like support, but they also needed to be trained on marketing context, and the ecommerce landscape more broadly. CSMs were expected to coach on how Privy initiatives would tie in to other marketing tools and channels their merchants were using.
Rather than supporting 50 customers a day through live chat, a CSM would likely schedule 20-30 customer calls a week. They'd do some prep work in the account ahead of the call, maybe some follow up email suggestions, and more.
A single CSM managing up to 100 accounts sounds like a lot. And it was, especially when many of a CSMs accounts wanted to help leading up to black friday or other busy ecommerce times.
But for the rest of the year each account had a pretty consistent "burn down" rate with a CSM. Upfront, after first buying Privy, the CSM would be quite busy with the account. Strategy calls, implementation calls, results calls, etc. But then after month 2 or 3, the support that account needed from the CSM really began to slow down. That's what helped the CSM scale to so many accounts.
This combo of live chat support reps, mixed with CSMs for higher MRR accounts, got us to ~$8M in ARR.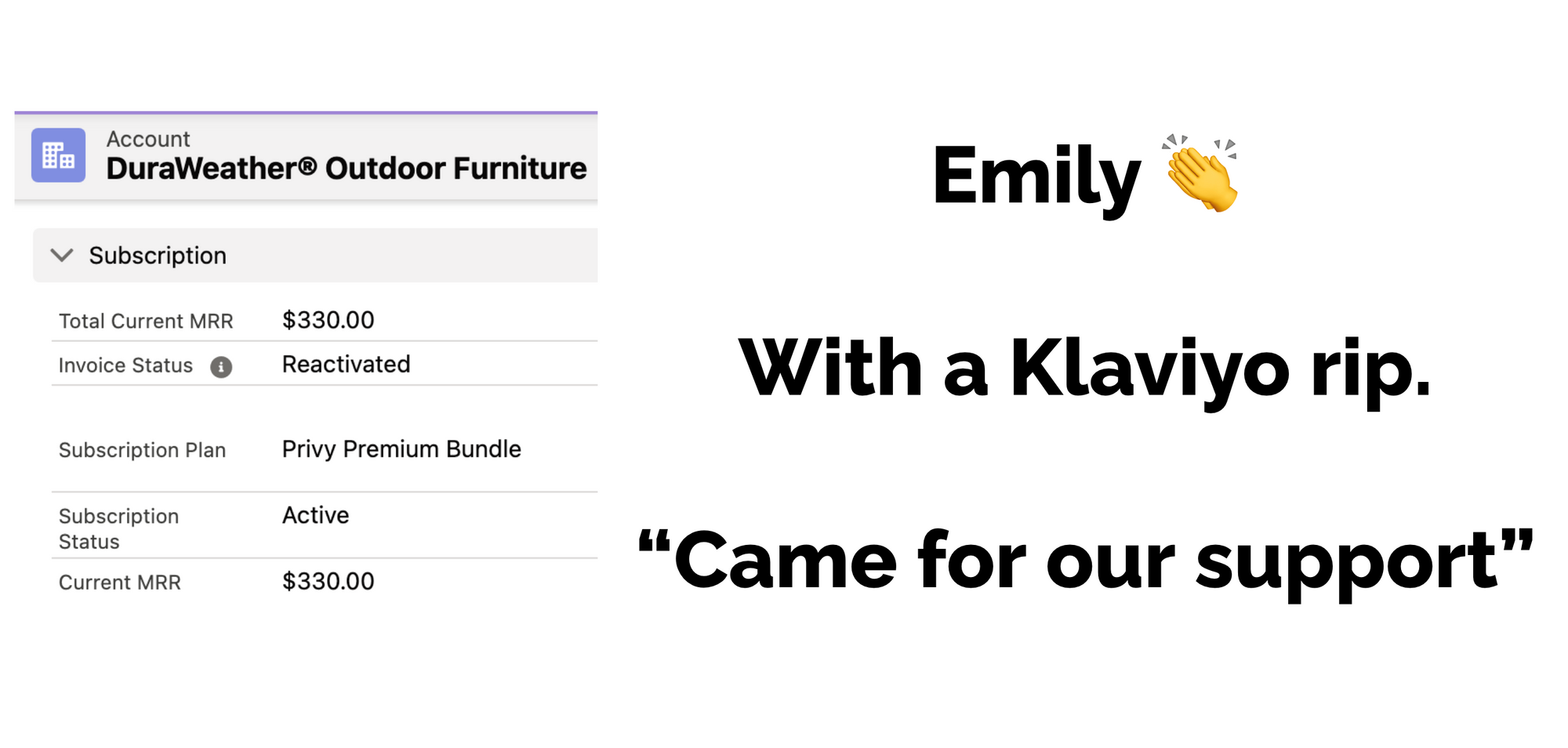 The need for "onboarding" as a function.
In 2019 we had gone from $4M in ARR to $8M in ARR, mostly by launching and cross-selling Privy email into our existing customer base.
We definitely had a bunch of customers who were fully active on Privy conversion tools, then self serve activated to email automations and newsletters as well.
But let's be honest, no product is perfectly self serve.
At the CSM level, any account that was cross-sold into email, had dedicated help from their CSM, onboarding to Privy email.
But now we also had a ton of self serve accounts buying 2 products from privy, and in many cases activating only to one, or only using a portion of what they bought.
The problem was that these accounts were coming in at MRR levels below were we could feasibly apply a dedicated CSM. Those economics wouldn't work out for an account at $50 MRR.
The other interesting thing was that now that these accounts were on email, someone who comes in at a $30 or $50 MRR price point, could easily scale to 2-3X that in their first year, if they were successful activating to list growth and email marketing.
So, even though we knew we couldn't afford to dedicate a CSM to that account, we knew we should be investing in them in some, human touch way.
This is when we built an "onboarding" team. Unlike CSMs that would stick with you and act as the main point of contact through out your tenure with Privy, onboarding's job was to schedule one, maybe two calls, to get you activated on the call with the 2-3 most powerful features of your plan type.
We ripped the idea from SuperHuman, the email client that would dedicate a live onboarding call to teaching you how to use the email client. We figured if they can offer that service to a $30 MRR customer, so could we.
So the onboarding team of reps was in the middle of the spectrum between support rep and CSM. They were product experts that could speak to ecommerce marketing context. This way they could explain the value of activating a certain campaign type, now, while on the phone.
Over time we realized $30 was probably too low for us to be able to offer onboarding, and we inched it up, or only offered it to accounts that were signing longer term commitments with us.
TBH we never exactly nailed the filter on who we should offer onboarding too, but we did see that accounts that completed onboarding, and accounts that had a CSM, retained at significantly higher rates than those that were fully self service. Not a huge surprise, so we kept all 3 programs running: support, onboarding and customer success.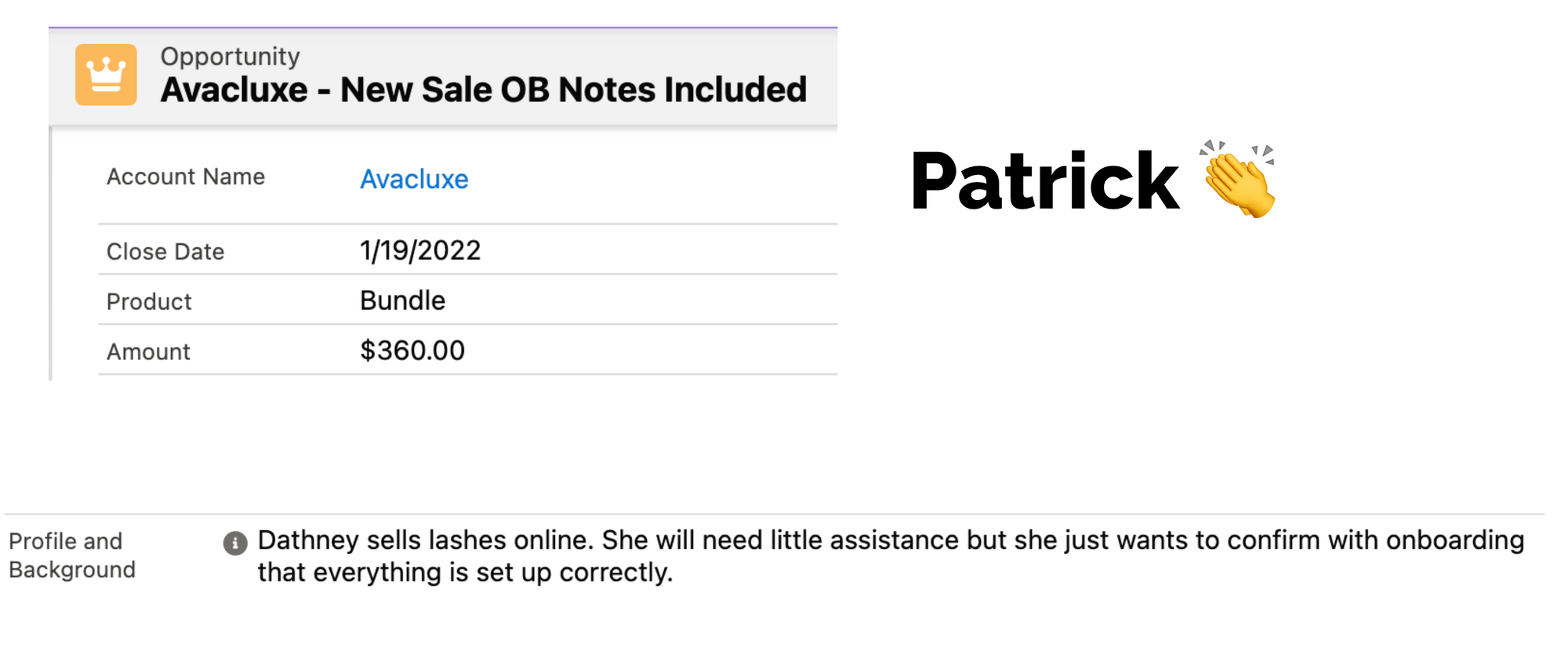 That was the Privy coaching model.
After 10 years of internal company town halls, I started to sound like a broken record.
"Tools AND coaching"
"Tools AND coaching"
"Tools AND coaching"
But that literally became the Privy brand. It's what separated us, and still separates Privy from other vendors in the space.
Support, onboarding and customer success.
And we were doing it at volumes anyone might say "it wouldn't scale".
I firmly believe that there's a way to make anything scale, if it works and adds customer value.
How we comped support, onboarding and customer success.
Each arm of the coaching model was so critical, and was really focused on different outcomes. So we came up with variable compensation and bonuses tied to those outcomes.
For the support team, we wanted fast response times, yes, but more importantly happy customers after a support experience. So we came up with CSAT goals for support tickets and chats, and if the collective team hit that team goal in a quarter, they'd earn their bonuses.
For onboarding, we wanted to drive feature activation as a result of onboarding calls. So we focused on measuring which accounts completed onboarding, and whether or not they had enabled campaign types 1,2 and 3. If the account activated on that, the onboarding team earned a small per account bonus for that, since we were confident it would drive long term retention of the account.
And for customer success managers, the outcome was quarterly MRR retention. Each CSM had a book of ~100 or so accounts. The goal was to retain over 99% of that book's MRR, and based on achieving that, they would earn their quarterly bonus.